Born: September (virgo!), Canada
Died: Not yet
Education: BS CMSC from UMBC. Perry Hall Senior High School, Baltimore, MD
Location: Ellicott City, MD
Pets: Cats!
Colors: Dark Blue and Espresso
Me Elsewhere:

Facebook

Google Plus

Amazon (reviews, wishlists, etc)

Linked In


Contact:
Email: omar@heedme.com
Web: www.heedme.com



Welcome!
Personal webpages are a bit passe in the age of social networking sites (see links to the left!), but I've had my own "homepage" since the dawn of time, err, I mean the dawn of the web, so I (barely) continue to maintain this one.
I work with computers for a living and also for personal interest-- you might call me a technologist.

I do systems and network engineering: architecting networks of internet-attached systems. I've worked in many niches of the industry but am currently with the University of Maryland at College Park, in the Clark School of Engineering. See my resume for details (although it is likely woefully out of date).

I am available for consulting work in my areas of speciality, contact me if interested.
I have a variety of interests, but if I had to pick one true passion, it's travel. I enjoy everything about travel, but most of all how it forces a change in context, leaving mind and senses open, better able to appreciate and absorb. You can see some of my travel photos. And it turns out many of my other favorite things fit in well with traveling.

There are many places that I still haven't been to-- and old favorites that keep drawing me back. Recently I have been enchanted by Latin America and SouthEast Asia. And the Mediterranean Basin has always called to me (and really anywhere off the beaten path). Here's a rough map of where I've been.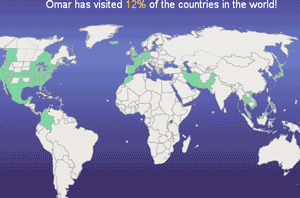 Another great passion is food and drink. Eating, drinking, cooking, going out, discussing, researching - all of it!! Eating is such an integral part of history, culture, social activity, and stimulates all the senses. I cook all kinds of things but desserts are a speciality. I can be a big nightlife person; a lounge with decent drinks, music, small-plate food, people-watching? Perfect!
I'm something of an avid photographer, which allows me to meld the creative and technical. I shoot Canon EOS dSLRs.
I greatly enjoy the outdoors, and like to hike, garden, climb, kayak, or just sit in outdoor cafes (see food above). Contemplative time next to running water in a natural setting with a homemade baked good in hand is pretty darn nice. Considering all those interests, eco-sustainability matters to me. No worries, I'm not sanctimonious about it, but I do frown real hard at people who litter or ignore the obvious recycling bin in favor of the trashcan.
I love my cats, and currently have two feline companions. I'm definitely a cat person (but an animal person in general).
I like to do many other things: I work out regularly, follow current events and politics, read prodigiously, write profusely (I'm a top Amazon.com reviewer), explore art-galleries, museums and historical sites when I can, watch bad movies, and take care to keep my home pleasing. I consider good strong coffee an essential.

I enjoy yoga a lot and have tried to make it part of my routine. I did Tien Shan Pai KungFu for several years and hope to resume training someday. I've been known to go spelunking and climbing. I enjoy shopping more than most guys do.

I love the evening and the late night, and am an introvert of the INTP or INTJ variety.
I am a prolific reviewer, with a large number of reviews on Amazon.com. Don't judge! I'm a member of Amazon's Vine reviewing program, also.
I spend rather too much time online. And I think that is quite enough about me.
I've always had lots of books and other media. I've recently been trying to slim down these collections in an effort to lessen my "stuff", there's still a bunch. I've created online lists to help me track what I have although these collections are somewhat shrinking: see my book collection, and my DVD library. As of April 2020, I've ditched thelast of my music CD collection...finally.


My current personal computing setup changes often but currently:

Homebrew i5 Windows gaming rig and homebrew i7 workstation running FreeBSD.
Various and sundry hosted services



Here are some very old (ca. 1990s) images and text files. They are included here solely for a taste of what I might have found entertaining once upon a time... And here's a link to a Grenada Travelogue I wrote years ago. (it looks primitive now but has been popular via google so I provide a link to it still).


The content here is mine alone, and is not associated with or condoned by any past, current, or future employer, neighbor, significant other, pet, or postal carrier.